Today marks the first day of the Spring 2013 semester. If you're new to campus, you may not have any idea where you need to go. Thankfully, FourSquare, a geo-location app, will help you find your way in very little time.
FourSquare is a free mobile app (available for Android and iOS mobile devices) that allows you to locate and discover information about Hinds CC campus buildings (including administrative offices, classrooms, recreational venues) and other points of interest without having to ask for help.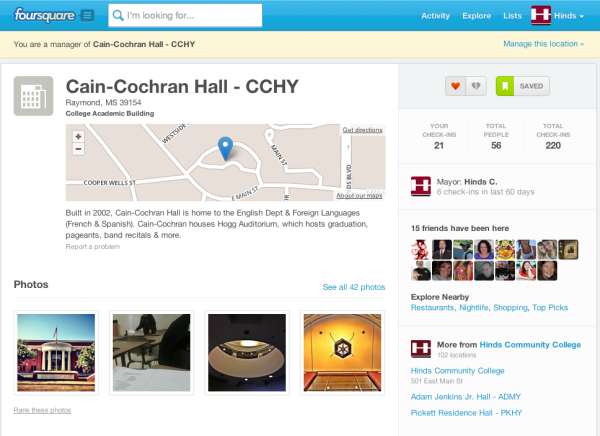 To get started with FourSquare, you'll need to download the app in your device's store (i.e. Android's Google Play or iOS's App Store). After you have installed the app and created a user account, you can search for buildings or venues.
To find a location on FourSquare, simply search for the building name (e.g. Cain-Cochran Hall) or building code (e.g. CCHY). Note: A list of building codes can be accessed via campus maps. Once you've found the desired location, you can read more about the building and/or view photos of the venue. You can also get directions from your current location to the building.
FourSquare is a helpful resource for new students as well as visitors to Hinds Community College. We've taken the time to map, photograph & provide descriptions of our six locations as a way to help you save time and energy. If you are interested in viewing all the locations we've mapped, please check out Hinds Community College's FourSquare Lists.